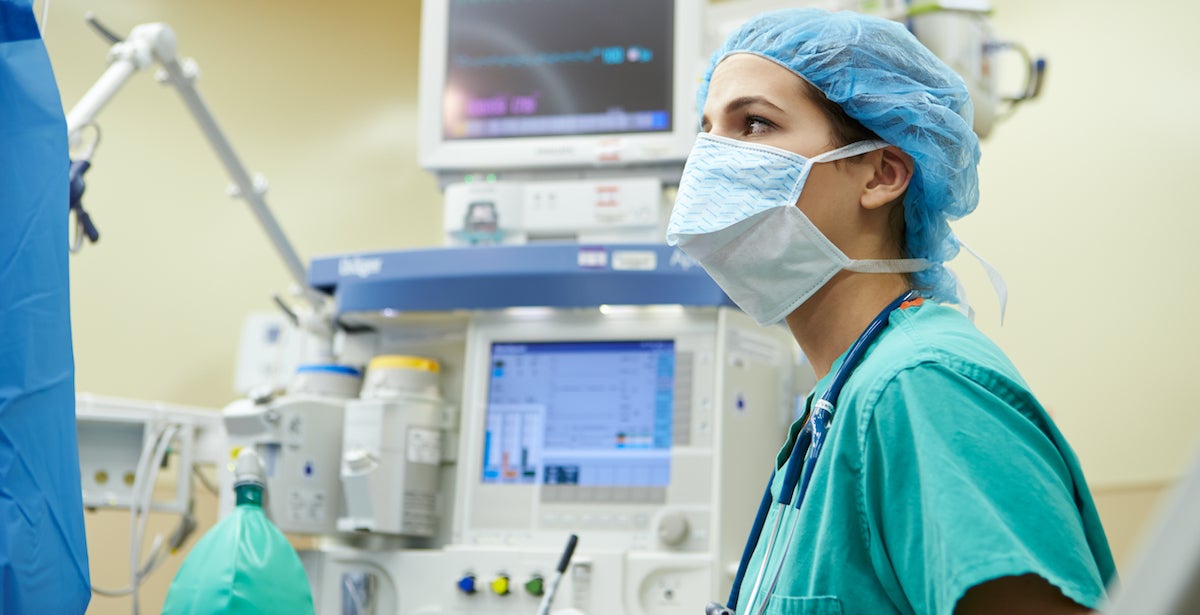 How to Become a Certified Registered Nurse Anesthetist
Nurse anesthetists have been a critical resource for administering anesthesia in the United States for over 150 years, starting with caring for wounded soldiers during the Civil War. There are currently over 50,000 nurse anesthetists practicing across the United States, and more than two-thirds practice in rural hospitals, enabling them to offer services that they couldn't offer otherwise. What's more is that nurse anesthetist ranks #10 for best-paying jobs in the United States.
A certified registered nurse anesthetist (CRNA) is trained to practice autonomously in the location you choose (however, state and health care facilities may impose supervision requirements from physicians). Understanding what a nurse anesthetist does, the education requirements and what to expect on this career path can help you to chart the best path forward.
What is a nurse anesthetist?
Nurse anesthetists are responsible for administering anesthesia and managing airway and breathing for patients in a variety of settings, such as surgery, pain management and more. The goal is to safely keep the patient in little to no discomfort while undergoing a surgery or procedure.
Nurse anesthetists perform an evaluation of the patient prior to administering the medicine to determine what type of anesthesia to use and how much of it to use, while also considering any potential health risks or complications.
How is a nurse anesthetist different from an anesthesiologist?
Nurse anesthetists have been providing anesthesia to patients in the United States for more than 150 years. They are responsible for administering over 45 million anesthetics to patients annually. An anesthesiologist is a medical doctor who has a minimum of eight years of graduate training, including the completion of a four-year medical program and serving four years in residency.
A CRNA is an advanced practice registered nurse (APRN) and is required to have at least a master's degree with a concentration in nurse anesthesiology; however, this requirement is changing and will be a Doctor of Nursing by 2025. Additionally, CRNA schools will no longer admit students into masters programs beginning in January 2022.
Another difference is that anesthesiologists may work as heads of departments at a hospital or university teaching hospital.
What does a certified registered nurse anesthetist do?
The type of work that you do will vary based on your setting, but generally, you will work with patients, families and other medical staff to provide pain relief and airway management during medical procedures. CRNAs can work under the supervision of doctors or independently, depending on state laws. Currently, there are 30 states and 3 territories in which CRNAs can practice independently.
Daily responsibilities may include:
Conducting evaluations and assessments on patients.

Discussing surgery and recovery expectations with patients before their procedures.

Preparations for administering anesthesia, such as intubation.

The monitoring of vital signs, including breathing and ventilation, and adjusting anesthesia as necessary during procedures.

Overseeing a patient's recovery after receiving anesthesia.

Collaborating with medical staff to determine patient pain management plans.
Most CRNAs work directly with patients, but many take on additional responsibilities such as working with new staff to complete training. Experienced CRNAs may work in teaching roles to help aspiring nurse anesthetists complete their required nurse anesthesia program and education.
Where do CRNAs Work?
CRNAs have many different employment opportunities and can work in diverse settings, everywhere from a private practice to a dental office. A few potential settings include:
Private practices

Surgical hospitals

Specialty hospitals

Dental offices

Pain management clinics

Military facilities

Universities and hospitals

Dental practices
States that allow independent practice of CRNAs provide the opportunity to work with complete autonomy. Dental offices and private medical practices are two such settings where CRNAs may work as part of the team but can also work independently if state laws allow it.
Education requirements
Many prospective CRNAs want to better understand how long it takes to complete the required education and training. A registered nurse with a bachelor's degree in nursing and a year of experience in an acute care setting will have a faster path to completion than a nurse with an associate degree and no acute care nursing experience will. Education requirements include the following:
Becoming a registered nurse. There are three ways to become a CRNA, including earning an associate degree in nursing, Bachelor of Science in nursing or direct-entry master's program. All degree options require earning an RN license, which is accomplished by studying and passing the NCLEX exam. If you have a bachelor's degree in nursing, your time spent pursuing a master's degree or doctorate degree will be much faster.

Get at least one year of experience in a critical care setting. Seek experience working in a critical care setting, such as an ICU, after becoming an RN. Here, nurses gain experience with sedated and ventilated patients who require frequent monitoring and complex interventions. Master's and doctorate programs may only require a year of this type of experience; however, most nurses entering CRNA programs typically have about three years of experience in this setting.

Earn an advanced degree in nursing. Earning a master's degree with the appropriate concentration is the current path to becoming a CRNA. However, a doctorate in nursing will be the minimum requirement by 2025. In January 2022, schools will no longer admit students to masters programs, and students should instead focus on earning their doctoral degree.

Complete the practicum requirements. As part of your CRNA program, you will be required to complete a specific number of clinical hours. Even if the program is online, the practicum requirement will need to be completed in person. Most programs will coordinate this experience in your local community.

Earn the nurse anesthetist certification. Eligibility to sit for the National Board of Certification and Recertification for Nurse Anesthetists (NBCRNA) requires that you complete an accredited CRNA program. There are 100 to 200 questions on the certification exam, and it's taken on-site via computer. You will be given initial results upon completion, and your official results are mailed within four weeks. If you pass the exam, certification will be sent directly to your board of nursing.
How long does becoming a CRNA take?
The amount of time that it takes to become a CRNA varies based on your existing education and experience. If you're starting from the beginning, expect to study four years for a Bachelor of Science in nursing and to complete one year of work experience before applying to a postgraduate program. A doctorate degree takes 3-4 years to complete.
Online programs are typically flexible, with most coursework completed online. Additionally, many programs don't have mandatory log-in times, allowing you to complete classes on your schedule. The practicum experience must be completed in person, and you may need to adjust your commitments to accommodate this requirement.
Continuing education
Keeping your license current will require continuing education. CRNAs are required to complete a specific number of credits every four years, with additional testing requirements every eight years.
Credit requirements are divided into three categories: Class A, Class B and Core Module. You need to earn credits in each area every four years to maintain your certification.
Class A credits (60 credits every four years). Coursework is related to administering anesthesia care.

Class B credits (40 credits every four years). Coursework is related to CRNA professional development, such as volunteer leadership roles, conferences and more.

Core modules (four credits every four years). This includes key topics in anesthesia, such as airway management, human physiology, anesthesia technology and more.
What is the earning potential and job outlook for a CRNA?
The average salary for a nurse anesthetist is $191,040. The top 10% of these healthcare professionals earn over $200,000 annually. The amount that you earn will largely depend on what type of setting you decide to select. Consider the following:
Outpatient care centers: $224,630 annually

General medical and surgical hospitals: $192,380

Specialty hospitals: $184,200

Universities and hospitals: $184,090

Physicians' offices: $171,220

Clinics and private practices: $169,140
Keep in mind that geography will also play in your earning potential. The two top-paying states comprise rural communities. This is largely because it's difficult to attract healthcare workers to small, rural locations.
Wyoming: $242,310 annually

Montana: $239,380 annually

Oregon: $234,750 annually

Wisconsin: $233,600 annually

California: $227,290 annually
Moving into the future
Transitioning into a career as a certified nurse anesthetist will allow you to open doors to new and more rewarding opportunities. CRNAs are in high demand, ensuring that you have job security regardless of where you decide to live in the future.
Educational paths to this career may vary, but as you make the transition, it's important to consider completing a DNP program, particularly with education requirements changing in the near future.
---
Sources:
ExploreHealthCareers.org. Nurse Anesthetist. https://explorehealthcareers.org/career/nursing/nurse-anesthetist/ (visited July 28, 2021). 
U.S. News. Nurse Anesthetist. https://money.usnews.com/careers/best-jobs/nurse-anesthetist (visited July 28, 2021). 
American Association of Nurse Anesthetists. CRNA Fast Facts. https://www.aana.com/docs/default-source/fga-aana-com-web-documents-(all)/17_fga02_crna_fast_facts_v2_fnl.pdf?sfvrsn=70278b0c_4 (visited July 28, 2021). 
National Council of State Boards of Nursing. CRNA Independent Practice Map. https://www.ncsbn.org/5404.htm (visited July 28, 2021). 
All Nursing Schools. Nurse Anesthetist (CRNA) Degrees and Program Requirements. https://www.allnursingschools.com/nurse-anesthetist/degrees/ (visited July 28, 2021).
Bureau of Labor Statistics, U.S. Department of Labor. Occupational Employment and Wage Statistics, Occupational Employment and Wages, May 2020. https://www.bls.gov/oes/current/oes291151.htm (visited July 28, 2021).
All Nursing Schools. How Much Does a Nurse Anesthetist Make? https://www.allnursingschools.com/nurse-anesthetist/salary/ (visited July 28, 2021).