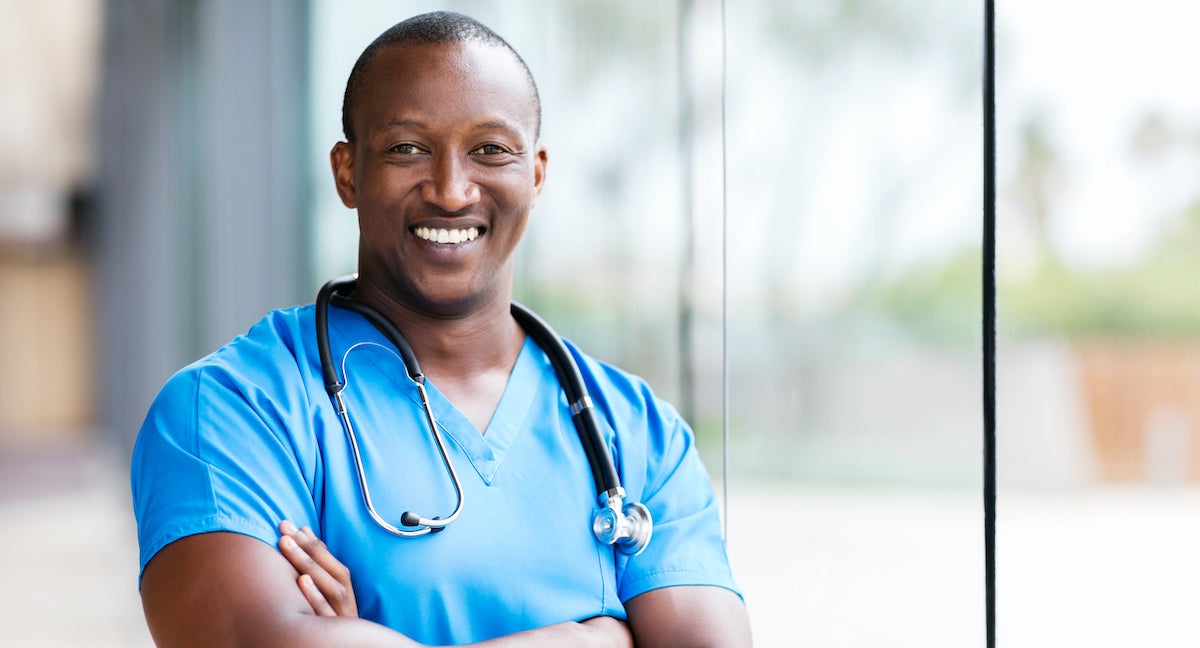 How to Become a Certified Nurse Practitioner
A shortage of primary care doctors in the United States is fueling the demand for certified nurse practitioners. The physician shortage could reach 139,000 by 2033, according to Forbes. NPs fill this critical need by carrying out many of the functions that physicians typically handle, helping them manage the growing need for primary care.
Nurse practitioners (NPs) are advanced practice registered nurses (APRNs) who work in many different areas—everything from family practice to pediatrics to mental health. Among other duties, NPs evaluate patients, formulate a diagnosis, determine the best treatment plan , order and interpret diagnostic tests, and prescribe medications as needed.
The path to becoming a certified nurse practitioner depends on your current level of education and experience, but many of today's programs, such as online DNP programs, are designed to accelerate your learning and help you achieve your goals faster.
What is the difference between a nurse practitioner and an RN?
A certified nurse practitioner must have an advanced level of education, such as a master's degree in nursing or a doctor of nursing practice (DNP). However, professional nursing organizations are examining the minimum requirements for this career. The National Organization of Nurse Practitioner Faculties (NONPF) put out a position statement that the DNP should be the entry level degree for NPs starting in 2025. Other organizations, including accrediting and certifying bodies have yet to set a specific date.
Individuals enter professional nursing as a registered nurse (RN) with either an associate's degree, bachelor's degree or master's degree. RNs focus on the nursing process and utilize critical thinking skills to assess, identify problems, prioritize needs and collaborate with other members of the team and evaluate outcomes. The scope of their practice does not include formulating medical diagnoses or managing the plan of care. This RN foundation is a requirement for advanced practice and NPs must maintain their RN licensure.
Where do nurse practitioners work?
Nurse practitioners have many choices of fields of specialization, everything from private practice to pediatrics to mental health. The scope of practice and resulting setting is based on the NPs training and state regulations. A few potential settings in which NPs work include:
Hospitals. In hospitals, acute care trained NPs may work in a variety of areas, such as the emergency room, maternal care or critical care.

Private medical offices. Many NPs work in family practices or in private physician's offices. This is where a large portion of non-acute care trained NPs work.

Community clinics. These clinics are designed to provide medical access to vulnerable populations such as the homeless and low-income families. NPs working in community clinics commonly have a background in family practice, adult-gerontology, or pediatrics.

Nursing homes. Nursing homes often rely on NPs to assist with caring for patients who need ongoing care and have chronic medical conditions. For example, an NP may decide to specialize in geriatric care and treat aging populations.

College clinics and universities. Many colleges and universities want a medical professional on staff to treat students. NPs are often hired into student health clinics as they are trained to provide primary care and preventative health services. They can also act as a critical resource to fill the current primary care shortage.

Home healthcare agencies. NPs can also work for home health care agencies providing sick patients with care in their homes. This allows the chronically ill to receive comprehensive treatment without the discomfort of traveling outside their homes.

Telemedicine. Patients are demanding more convenient and accessible healthcare options. NPs serve a critical role in providing this care and offering patients with options that fit their schedules.
What is the available patient focus?
Those studying to become nurse practitioners can select the patient population they most want to serve. If you prefer to work with children, for example, you may decide to specialize in pediatric patients or neonatal care. Educational programs are designed to provide the required training and experience to prepare you for your chosen career path. Other potential areas of specialization include:
Gerontology NP. Provide acute and primary care to adults and the elderly.

Family NP. Provide care to a wide range of patient populations with a focus on family care.

Neonatal NP. These NPs work in neonatal intensive care units and collaborate with interdisciplinary teams to provide care to premature and ill infants.

Pediatric NP. Provide acute and primary care to children of all ages, from infants to young adults.

Psychiatric-mental health NP. A psychiatric-mental health nurse practitioner provides care to patients who struggle with a mental health disorder. These nurses are trained in therapeutic techniques as well as management including pharmacological interventions.

Women's health NP. These NPs provide primary and reproductive health care to patients of all ages.
An accredited nurse practitioner program offers a variety of specialties to help you get the experience required to launch your career.
Steps to becoming a nurse practitioner
If you're considering a career as a nurse practitioner, you might be wondering what is required in terms of education, training and certification. The steps you will need to complete to obtain an NP license depend on your education level and accreditation. But generally, you will need an undergraduate education in nursing, a registered nurse license, a graduate degree, and the required advanced practice license. Here is what to expect.
Receive a bachelor's degree in nursing. A bachelor's degree in nursing is typically required for most NP programs. If you have an associate degree in nursing, you may be able to enter a bridge program that helps you cover material in the bachelor's and master's program at the same time or you can first complete an RN to BSN program.

Pass the National Council Licensure Examination (NCLEX). This test is a national board certification that is required to apply for RN licensure in your state. The exam is focused on entry level nursing knowledge. After passing the exam, you can apply for a license as an RN in your state. Also, check with your state regarding any additional requirements.

Enroll in a graduate program in nursing. Those interested in becoming an NP have a couple of different educational choices. The first is a Master of Science in Nursing (MSN) program designed to build on the skills you learned during your bachelor's program; an MSN takes two to three years to complete. Alternatively, you can decide to pursue a Doctor of Nursing program, which also builds on the content that you learned previously but is a deeper dive into translational research, leadership and systems thinking compared to a MSN program. Programs take three to four years depending on your prior education and experience. NPs just starting their career transition should consider that in 2018 the National Organization of Nurse Practitioner Faculties (NONPF) indicated that all entry-level nurse practitioner education programs should transition from an MSN to a DNP by 2025.

Pass the National NP Certification Exam. Once you complete your education program, you will need to take the national certification exam. Upon passing the exam, you can apply for an NP license in your state.

Meet continuing education requirements. As a licensed nurse practitioner, you will be required to complete continuing education courses to keep your license and certification current. Check with your local board of nursing and certifying body to determine the requirements in your area.
Keep in mind that many programs are now available in online formats. Virtual programs don't usually have mandatory login times, so you can complete the coursework around your existing obligations. Exceptions include possible campus residencies that are required by some graduate nursing program and all students will need to complete the required clinical experience, which may necessitate an adjustment in your schedule based on clinic setting hours.
What is the salary and job outlook for nurse practitioners?
The U.S. Bureau of Labor Statistics predicts that job growth for certain APRNs — nurse practitioners, nurse midwives and nurse anesthesiologists — will grow 45%, which is much faster than average. The median salary for a nurse practitioner is $96,018; however, the salary is forecast to continue to grow in the future.
Earning potential varies with geographic location and area of specialization. For example, California pays NPs the highest mean salary in the United States ($138,670). Nurse practitioners in the San Francisco, Oakland and Hayward areas and within the Vallejo and Fairfield metropolitan areas earn an average of $150,000 annually. There is also more demand for nurse practitioners in underserved and rural areas.
Moving into the future
Starting a career as an NP gives you choices, including the ability to select where you work, your area of specialization, and how you want to practice. NPs are found everywhere in healthcare settings, from private NP-owned practices to working for large healthcare systems that span many states. Completing the required training to enter this profession gives you the ability to customize your career based on your unique interests.
If you're already a registered nurse, you can easily make the transition to NP by entering the appropriate nurse practitioner program to prepare you for certification and licensure. If you're at the start of your nursing path, becoming an RN first will help you get hands-on experience to decide whether this career suits your interests. Regardless, you can be certain that the demand for nurses, including NPs, will increase steadily in the coming years.
---
Sources:
Forbes. U.S. Doctor Shortage Could Hit 139,000 By 2033. https://www.forbes.com/sites/brucejapsen/2020/06/26/us-doctor-shortage-could-hit-139000-by-2033/?sh=2555a3ad6815 (visited July 28, 2021).
The National Organization of Nurse Practitioner Faculties. The Doctor of Nursing Practice Degree: Entry to Nurse Practitioner Practice by 2025. https://cdn.ymaws.com/www.nonpf.org/resource/resmgr/dnp/v3_05.2018_NONPF_DNP_Stateme.pdf (visited July 28, 2021).
Bureau of Labor Statistics, U.S. Department of Labor. Occupational Outlook Handbook, Nurse Anesthetists, Nurse Midwives, and Nurse Practitioners. https://www.bls.gov/ooh/healthcare/nurse-anesthetists-nurse-midwives-and-nurse-practitioners.htm#:~:text=Overall%20employment%20of%20nurse%20anesthetists,the%20average%20for%20all%20occupations (visited July 28, 2021).
Bureau of Labor Statistics, U.S. Department of Labor. Occupational Employment and Wage Statistics, Occupational Employment and Wages, May 2020. https://www.bls.gov/oes/current/oes291171.htm (visited July 28, 2021).