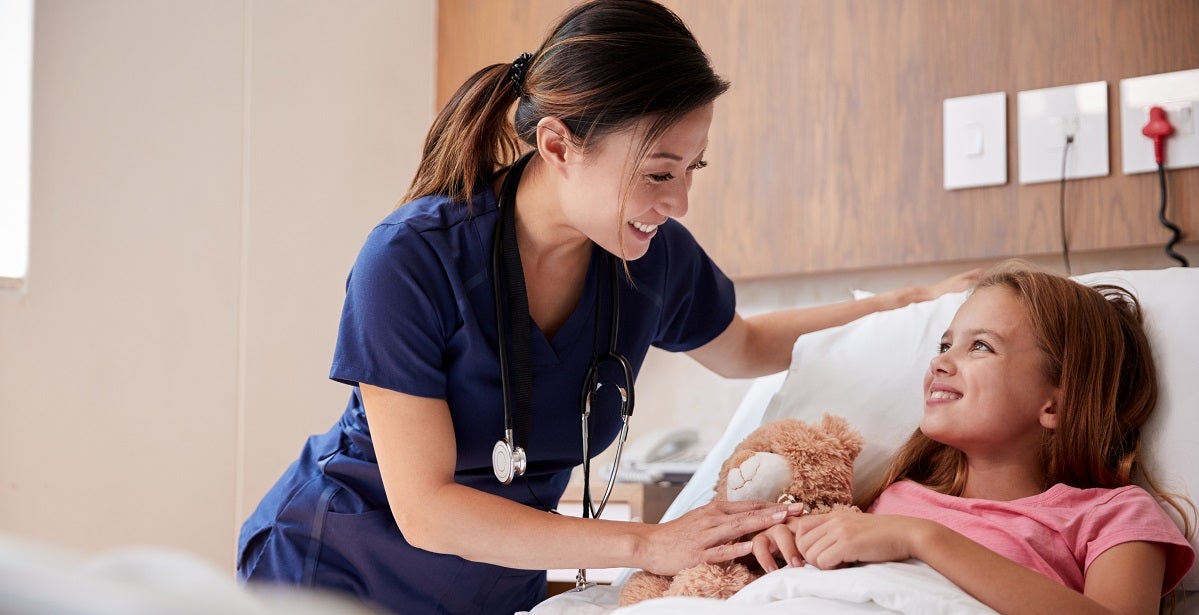 Careers in Nursing: What Is a Pediatric Clinical Nurse Specialist?
If you enjoy working with children, collaborating with nursing and medical staff, and managing a variety of responsibilities simultaneously, a career as a pediatric clinical nurse specialist may be a good fit. A clinical nurse specialist (CNS) is an advanced practice registered nurse (APRN). This type of nurse has in-depth education and clinical experience in pediatrics and works to improve patient outcomes and empower staff through education.
Pediatric CNSs provide patient care and may take on supervisory roles in their departments or practice. They are skilled at spotting areas for improvement and gaps in healthcare and identifying solutions to remedy any potential issues. On a daily basis, they provide consulting services, communicate with patients and families to monitor care, implement interventions, and evaluate the general delivery of healthcare.
So what is a pediatric clinical nurse specialist and how do you become one? If you're considering this pediatric nurse career path, it helps to know what education, skills, and experience are required to move forward in the right direction.
What do pediatric clinical nurse specialists do?
Pediatric CNSs wear many different hats; these nurse professionals might be caring for patients or working collaboratively with other nurses, doctors and staff members. CNSs have advanced coursework in assessment, diagnosis and management. Depending on the state, some CNSs are allowed to prescribe medication in addition to other elements of the treatment plan. The main difference between a nurse practitioner and a CNS is that CNS have specific course work in education pedagogy. One survey found that CNSs spend about 25% of their day providing patient care, 20% consulting with other nurses, 19% teaching, and 14% leading evidence-based projects.
There is high demand for pediatric CNSs, and they can choose to work in a variety of environments, including:
Hospitals and acute care

Private practices

Rehabilitation centers

Community health agencies and clinics
The first step for working in a CNS role is evaluating where you are right now and where you need to arrive to secure a position in this advanced nursing practice.
Steps to becoming a pediatric clinical nurse specialist
Because CNSs are one type of advanced practice registered nurses (APRNs), the role requires a graduate nursing degree. The path to this career isn't the same for everyone; it depends on where you are right now and how much education you've already completed. Here are five steps to getting started:
Earn a nursing degree. A pediatric CNS requires an advanced level of education, and that requires you to earn a nursing degree. There are many options, but a Bachelor of Science is required since you will need to complete a master's or Doctor of Professional Nursing program to qualify for positions. A bachelor's degree in nursing takes about four years to complete, unless you already have a bachelor's degree in a different area, which may significantly shorten the time to completion. If that is the case, an accelerated BSN or a direct-entry master's degree might be a good fit for those looking to reach their nursing career goals more quickly

Seek RN licensure in your state. Once you complete your nursing program, register to take the NCLEX-RN exam. Every state has different requirements; however, passing this exam is a requirement in all 50 states. Examples of additional licensure requirements are completing an application, undergoing a background check, and providing letters of recommendation.

Pursue a nursing position in a pediatric environment. When applying to advanced-level nursing programs, it will strengthen your application if you have experience working in a pediatric setting. Work as a nurse in a pediatric office or in a hospital setting caring for infants and children to further your clinical expertise.

Seek admissions to advanced programs. This can include an accredited Master of Science in Nursing program, post-graduate certificate or a Doctor of Nursing program that offers the pediatric clinical nurse specialist program track. Admissions vary by program, but it may require you to have a BSN or MSN, active RN licensure, and more. The length of time it takes to complete a degree will vary based on your prior education and experience as well as the degree program you select; however, this typically takes around two to four years to complete.

Seek certification. Upon completion of your degree, you will need to obtain a national certification through the American Association of Critical Care Nurses as a Pediatric Clinical Care Nurse. This is required for licensure as a CNS. Your state may have additional requirements for you as well.

CNS Licensure. You'll need to obtain APRN licensure as a CNS in your state. Rules for licensure and scope of CNS practice vary by state, and it is important to understand the rules and regulations in the state where you plan to practice.
Many students considering a career as a pediatric CNS prefer online programs. These programs are often flexible to meet the working requirements of nurses who are already practicing. Additionally, courses may be delivered asynchronously without mandatory login times, providing additional flexibility. Programs do have a clinical component, which must be completed in person and may require short-term schedule rearranging.
Job outlook and career opportunities
According to ZipRecruiter, the average annual pay for a Clinical Nurse Specialist in the United States is $106,407 a year. On average, pediatric clinical nurse specialists typically earn an average salary of $95,244 annually. Many CNSs are highly sought after by hospitals and private practices, and states where nurses are in high demand actively pay more. Top-paying areas include California, Hawaii, and the District of Columbia, followed closely by Massachusetts.
Nurses with advanced skills, such as pediatric CNSs, are expected to continue having strong job opportunities in the future. APRN positions, which include CNSs, are expected to increase in demand by 45% between 2019 and 2029.
Ready to get started on the path to becoming a pediatric CNS? View a list of top Doctor of Nursing Practice programs today.
---
Sources: