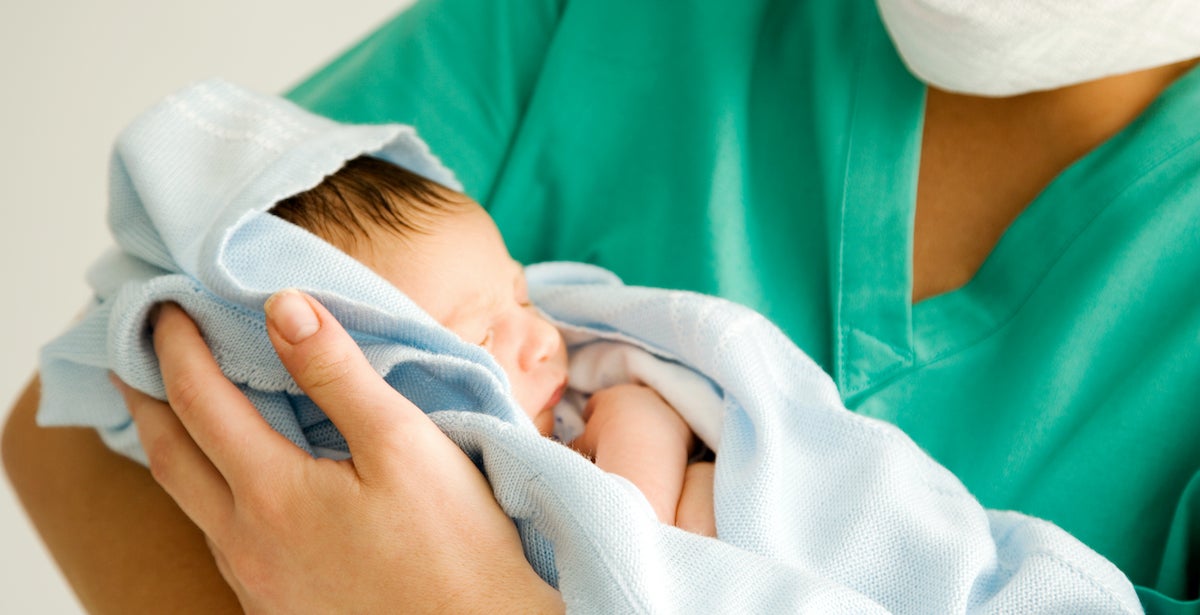 How to Become a Certified Nurse Midwife
If you enjoy working in the area of women's health and want to assist women before, during and after childbirth, becoming a certified nurse midwife (CNM) may be the right career path. A CNM is an advanced practice registered nurse. As a CNM, you may practice at a hospital or at a birthing center or be in private practice.
The education and licensing requirements, attainable through online Doctor of Nursing Practice (DNP) programs, provide you with advanced knowledge in the area of women's health, that prepares you to independently manage women's health across the lifespan with a large focus on their reproductive health needs including management of labor and delivery. If you're interested in this career path, you likely have many questions, including the education and experience required.
Certified nurse midwife vs. certified professional midwife: What's the difference?
As you start your journey to becoming a midwife, you will notice a variety of career paths are available. Two of the most common are the CNM and the certified professional midwife, but these options are different. The major differences revolve around the education requirements and the location in which you work.
CNMs were registered nurses (RNs) prior to concentrating in the area of midwifery and typically practice at hospitals, in private practices or at birth centers.
A certified professional midwife is not required to hold an RN license. The CPM doesn't typically work at a hospital or private practice and takes the exam administered by the North American Association of Midwives for certification. The CNM licensure is regulated by your state board of nursing.
What do CNMs do?
CNMs have a variety of responsibilities focused on serving patients in the area of women's health. CNMs see patients within the practice, but also outside of the hospital or birthing center to address their health needs and manage care before, during and after pregnancy including labor and delivery. They assess risk, manage acute issues that arise, develop birth plans and support a woman throughout the various stages of childbirth.
As a midwife, you welcome newborns into the world, evaluating and treating them for any potential concerns. If there are complications during childbirth, you assess the situation and call the pediatric or neonatal team to assess and provide further intervention. CNMs perform the initial well-baby assessment and monitor the babies' weight gain and feeding habits to ensure they are thriving during the first 28 days of life.
CNMs also help mothers create bonds with their babies, and work to prevent, identify and treat challenges such as postpartum depression.
Skills required
Nurse midwives work in intense and stressful environments. They must project calmness during stressful circumstances and think quickly to best serve the patient's evolving health needs. CNMs have a natural sense of compassion for their patients and a keen understanding of their needs in the moment. They are alert, agile and quick to respond to fast-changing demands during childbirth. A CNM needs the ability to:
Evaluate, assess and respond to situations quickly

Clearly communicate under pressure

Exhibit an attitude of compassion and empathy

Demonstrate excellent leadership skills

Adapt to the patient's individualized needs
A CNM has strong problem-solving skills and can tap into those skills under pressure. This adaptability helps CNMs provide the highest level of care to their patients and quickly anticipate the next best step.
Where do midwives work?
CNMs can work in a variety of settings, depending on their preference. Potential employers may include:
Women's health office/centers

Birthing centers

Hospitals

Community medical centers
CNMs can also go into private practice and offer home deliveries to their patients. The path that you select will vary based on your level of expertise and the setting in which you feel most connected.
Education required
A CNM needs to complete a master's degree in nursing or DNP with a concentration in the area of nurse midwifery. Programs typically require the following of applicants:
An unrestricted RN license. This typically requires earning a bachelor's degree in nursing. Additionally, you must pass the National Council Licensure Examination (NCLEX).

At least one year of experience working in the area of labor and delivery as an RN.

Required scores on the Graduate Record Examinations (GRE)
Apply to a master of science program in nursing once you complete these requirements and ensure that the program you select is accredited.
Consider the following program types when applying:
RN to MSN program. Do you have an associate degree in nursing (ADN)? Many ADN prepared nurses take this path because it's faster to get into the workforce. The fastest way to transition into a career as a CNM is to apply for a bridge program. This puts you on the fast track to earning the required MSN degree, enabling you to cover any material missed in the bachelor's program alongside the required MSN educational materials.

BSN to MSN program. Do you already hold a bachelor's degree in nursing? If so, you can apply directly to master of science programs in nursing.

DNP program. If you anticipate that you'll want to transition into a leadership role in the future, consider earning a doctor of nursing practice. This is the highest level of education available in the area of nurse midwifery and will open up administrative types of positions and higher earning potential.
Programs take anywhere from two to four years to complete, depending on your level of experience. If you're busy and need more flexibility in your coursework, consider an online program. Most of these programs don't have mandatory login times, so you can easily fit coursework around your existing professional and personal obligations. Coursework is typically 100% remote for online program offerings, and some programs require residencies on campus…
Maintain certification and licensing
After you complete the required education, you can obtain certification by passing a national exam and then applying for licensure in your local state. Certification as a midwife is offered by the American Midwifery Certification Board Exam. You will be qualified to apply for licensure as a CNM once you pass the exam.
The examination includes about 175 questions and is administered on a computer. Applicants can take the test up to four times. You must pass the exam within two years of completing your accredited master's program in nursing.
Continuing education
Ongoing education is required to keep your certification current. Courses are designed to keep you up to date on any advances or trends in the field of midwifery. Continuing education is offered at a variety of institutions. In addition to completing continuing education to maintain your certification, state licensure also has continuing education requirements for licensure renewal. However, it's important to also check with your state regarding licensing requirements.
Local states also have specific requirements regarding licensure; however, these vary by location. For example, an Iowa-certified midwife must complete at least 36 hours of continuing education during a three-year period to renew a license. However, in Kentucky, this requirement is 14 hours annually. Check your state board of nursing's website to determine the requirements in your area.
Certified midwife salaries
There is a national nursing shortage, which is fueling the need for nurses in all areas, including midwifery. The Bureau of Labor Statistics expects job opportunities for NMs, nurse practitioners and nurse anesthetists to increase 45% between 2019 and 2029, which is much faster than average.
CNM salaries vary based on your geographic area and level of experience and education. The national media salary is $93,047. Expect to earn about $87,415 as an entry-level nurse midwife. More advanced midwives can earn up to $105,237. Consider the following:
Entry-level CNMs: $87,415

Early-career CNMs: $90,619

Middle-career CNMs: $91,517

Experienced CNMs: $99,179

Later-career CNMs: $105,237
Most nurse midwives are employed by private practices, which on average employ several times the number of midwives compared with other employers.
Geography will also impact your earning potential. For example, California has the highest employment levels and salaries for RNs, while South Dakota has the highest volume of nursing positions.
Moving into the future
If you enjoy working with women and newborn infants, the area of nurse midwifery can be a natural fit. But it's important to understand what is required ahead of time so you can plan your time and resources. As you work toward achieving your goal of becoming a nurse midwife, you can feel confident that the job market will remain strong as new positions open up, existing nurse midwives retire and salaries continue to grow.
---
Sources:
American College of Nurse-Midwives. Comparison of Certified Nurse-Midwives, Certified Midwives, Certified Professional Midwives Clarifying the Distinctions Among Professional Midwifery Credentials in the U.S. https://www.midwife.org/acnm/files/ccLibraryFiles/FILENAME/000000006807/FINAL-ComparisonChart-Oct2017.pdf (visited July 28, 2021).
American Midwifery Certification Board. Application Process. https://www.amcbmidwife.org/amcb-certification/application-process (visited July 28, 2021).
Nursing Explorer. Certified Nurse-Midwife. https://www.nursingexplorer.com/careers/aprn/cnm (visited July 28, 2021).
Bureau of Labor Statistics, U.S. Department of Labor. Occupational Outlook Handbook, Nurse Anesthetists, Nurse Midwives, and Nurse Practitioners. https://www.bls.gov/ooh/healthcare/nurse-anesthetists-nurse-midwives-and-nurse-practitioners.htm (visited July 28, 2021).
NurseJournal. Nurse Midwife 2021 Salary Guide. https://nursejournal.org/nurse-midwife/salary/ (visited July 28, 2021).