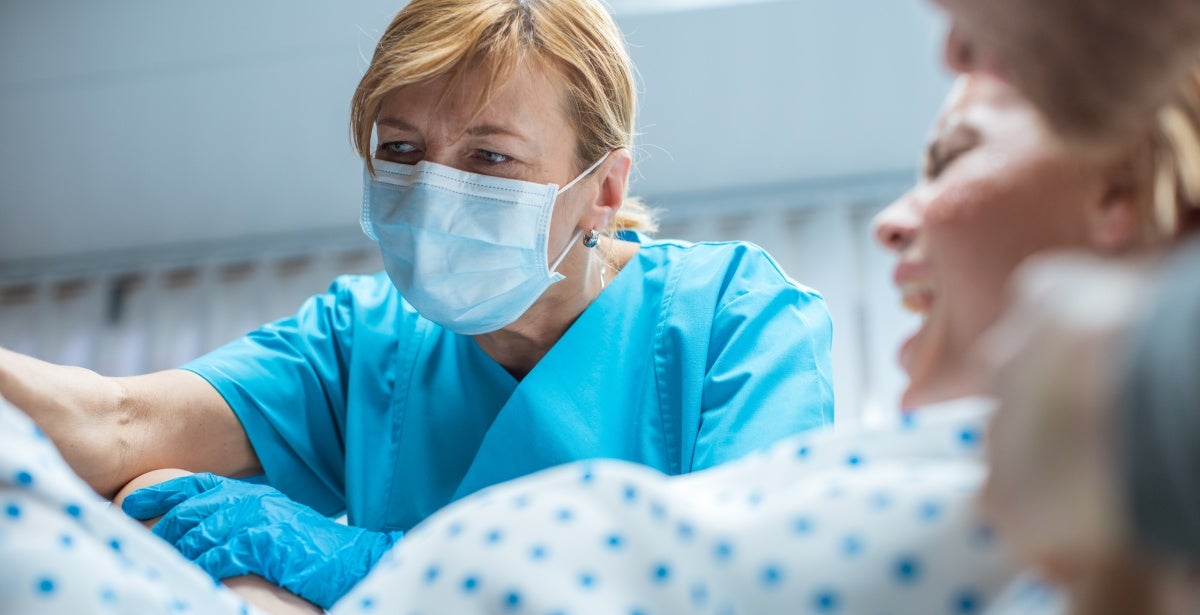 Careers in Nursing: What Is a Certified Nurse Midwife?
There are many different career paths in the nursing field, each with their own education requirements, responsibilities, and earning potentials. If you have a passion for women's reproductive health and childbirth, becoming a certified nurse midwife (CNM) is one of the best paths to choose. From pregnancy management to newborn care, getting a nurse midwifery specialty will allow you to make a massive difference for mothers and babies alike.
Because certified nurse midwives are advanced practice registered nurses (APRNs), they have to take part in very specific training and earn graduate level degrees. If you're curious about what it's like to be a certified nurse midwife and want to learn how you can become one, follow along with this quick guide as we look at every aspect of the certified nurse midwife career.
What Is a Certified Nurse Midwife?
A certified nurse midwife is a nurse who specializes in women's gynecological health along with prenatal and postnatal care, as well as labor and delivery (intrapartum care).
In many ways, a certified nurse midwife is similar to an OB/GYN doctor. Delivering babies is a major part of the nurse midwifery specialization, but certified nurse midwives are also actively involved in women's overall health and wellness.
A few of their typical responsibilities of a certified midwife include:
Family planning and counseling
Gynecological exams and checkups
Primary care for pregnant patients (in certain states)
Managing labor
Helping mothers deliver their babies safely and naturally
Measuring fetal development during pregnancy
Monitoring the health of mother and baby during delivery
Assisting surgeons during C-section births
Collaborate with other health professionals to provide special needs care
Studying new breakthroughs in birth procedures
Ensuring postnatal health of mother and baby
Offering programs that train expectant parents
Certified nurse midwives are distinct from other kinds of nurses who may be involved in birth procedures, such as labor and delivery nurses. Labor and delivery nurses are also specifically trained to be present in delivery rooms and assist with prepartum, intrapartum, and postpartum care. However, they do not actually deliver babies like a CNM.
Assisting mothers who prefer to have a natural birth is one of the most common duties of a CNM. Although many certified nurse midwives work in hospitals, there are some who work in private practices or make house calls for home births.
The Importance of Certified Nurse Midwives in Healthcare
The work of certified nurse midwives is instrumental in ensuring that mothers and babies are healthy before, during, and after the birthing process. In fact, the American College of Nurse Midwives (ACNM) lists the following benefits of births that are assisted by certified nurse midwives:
Lower rates of necessary C-section births
Lower rates of forced or augmented labor
Reduced cases of third or fourth degree perineal tears
Lower use of local anesthesia
Higher rates of breastfeeding
When CNMs are involved in prenatal, intranatal, and postnatal care, there is typically a much lower need for invasive technological interventions in the natural birthing process.
Expectant mothers who work with certified nurse midwives are also more likely to receive valuable education that contributes to better patient outcomes and healthy child development. Plus, the hands-on approach of certified nurse midwives contributes to stronger relationships with a higher degree of trust between patients and providers.
This kind of holistic care is often cited as an important factor in improving the healthcare system. The work of certified nurse midwives has even been shown to have significant financial implications, reducing healthcare costs in the following ways:
Increasing access to preventive care
Providing education that leads to a reduction in the need for future doctor visits
Reducing the high rates of pharmacological pain management
Limiting the use of expensive technological delivery procedures like C-sections
Lessening mothers' anxiety, which leads to a lower rate of labor-inducing drugs
Character Traits and Skills of a Successful Certified Nurse Midwife
Certified nurse midwives have a critical role in our healthcare system, working in sensitive situations where patient anxiety is often high and staff are under pressure to perform for long hours. Because of this, there are certain character traits and skills that are common among successful certified nurse midwives, such as:
Communication – Childbirth is a delicate situation, as are the periods before and after the delivery. It's important that certified nurse midwives communicate clearly and effectively, while at the same time not contributing to patient and family stress. They must be active listeners and firm speakers.

Critical thinking – No two births are exactly alike. In fact, the list of variations between each birthing process could go on indefinitely. Due to the many different complications that can arise, it's up to the certified nurse midwife to foresee problems, identify them when they're happening, and come up with a plan of action to treat them. This requires sound reasoning skills, planning, adaptability, and the ability to remain calm under pressure.

Perception – Outside of the birthing process itself, certified nurse midwives are responsible for providing counseling, family planning, and primary care services. In fact, more than 33% of certified nurse midwives identify primary care as their main responsibility in their full-time positions. Because these tasks are personal and require a degree of vulnerability, nurses working in midwifery care require empathy and social perceptiveness.
Average Salary and Career Outlook of a Certified Nurse Midwife
The United States Bureau of Labor Statistics reported that the average annual salary for certified nurse midwives was $108,810. This average salary is significantly higher than that of other nursing careers, such as licensed practical nurses, registered nurses, and even other advanced practice registered nurses with different specializations.
Depending on the community in which you live and work, you could earn even more than the average salary as a certified nurse midwife.
The top 5 highest paying states for certified nurse midwives include:
California ($154,500 per year)
Minnesota ($121,980 per year)
New York ($120,380 per year)
Mississippi ($119,640 per year)
Maryland ($118,240 per year)
The career outlook for certified nurse midwives is positive, despite lower birth rates overall, due to the increasing interest in having certified nurse midwives involved in childbirth.
In 2017, certified nurse midwives attended 9.1 percent of all U.S. births. That number is expected to go up in the coming years, as the employment of certified nurse midwives is predicted to grow 26 percent by 2028.
How to Become a Certified Nurse Midwife
Thinking of going into nurse midwifery? There are several steps you'll need to take before you can start working at hospitals or birthing centers as a certified nurse midwife. To become a CNM, you'll need to go through multiple years of higher education. Here is the basic career training trajectory:
Become a registered nurse – To go on to study for a career as a certified nurse midwife, you must first get a bachelor's degree of science in nursing (BSN) degree. Some registered nurses enter the field with an associate degree, but if you want to become a certified nurse midwife, you'll need the BSN. Once you graduate with your BSN, you will have to pass the NCLEX-RN exam to be a licensed registered nurse.

Gain professional experience – In the field of nursing, it's unusual to go directly from undergraduate study to graduate study. Instead, you'll typically want some real-world, professional nursing experience once you become a registered nurse. On average, you'll need to demonstrate at least a year of nursing experience for admission into graduate level nursing programs. Experience as an RN in women's health will strengthen your knowledge and skills leading before becoming a CNM.

Earn a graduate level degree in nursing – After gaining professional experience as a registered nurse, you can apply to master's or doctoral programs in nurse-midwifery. If you became a registered nurse through an associate degree, you'll need to complete a bridge program to earn your BSN before you can apply to a graduate level school. The graduate level degree in nurse-midwifery often takes two years to complete.

Become certified – Once you graduate with a master's or doctoral degree specializing in nurse midwifery, you'll have to pass a certification exam by the American Midwifery Certification Board. Once you pass this exam, you will be a certified nurse midwife who is eligible to apply for individual licensure practice in each of the 50 states, the District of Columbia, and other U.S. territories.
Related: What Can You Do with a Masters Degree in Nursing?
Become a Certified Nurse Midwife Quicker by Earning Your Degree Online
From postpartum care to supporting general women's health, there are many benefits to becoming a certified professional midwife. And like many careers in nursing, you can study to become a certified nurse midwife online.
If you're a BSN-educated nurse and you want to advance your career, you don't have to quit your job or move to attend an in-person program. You can become a certified nurse midwife by earning your doctor of nursing practice (DNP) degree online.
From the comfort of your home, you can invest in yourself and improve your future. Apply to one of the many online DNP programs from top accredited colleges and universities across the country, and start pursuing your career goals today.
Sources:
Midwife. The Credentials CNM and CM. https://www.midwife.org/The-Credential-CNM-and-CM
Propublica. A Larger Role for Midwives Could Improve efficient U.S. Care for Mothers and Babies. https://www.propublica.org/article/midwives-study-maternal-neonatal-care
APA. Midwives. https://americanpregnancy.org/healthy-pregnancy/labor-and-birth/midwives-605/
American College of Nurse Midwives. Essential Facts about Midwives. https://www.midwife.org/acnm/files/cclibraryfiles/filename/000000007531/EssentialFactsAboutMidwives-UPDATED.pdf
BLS. Nurse Midwives. https://www.bls.gov/oes/current/oes291161.htm
Nurse. 4 Steps to Becoming a Certified Nurse Midwife. https://nurse.org/resources/certified-nurse-midwife/
Registered Nursing. Certified Nurse Midwife. https://www.registerednursing.org/nurse-midwife/